Welcome to
Le Muséum de l'Ardèche
Natural history museum at Balalazuc, Ardèche, France
Immerse yourself in the origins of Ardèche and rule the mysteries of Life ! A spectacular adventure in the universe of fossils turning the clock back.
Over 350 m², stones and fossils tell us 500 millions years of earth story including the outstanding jurassic marine wildlife from the depths of Ardèche exposed its sharks, squilds, lobsters and octopuses and an impressive deposit of momified animals and plants well conserved into the diatomite, a stone formed thanks to volcanisme, 8 million years ago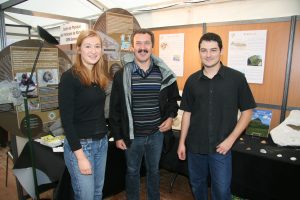 "We will be happy to make you discover the geologic wonders of the Ardèche conserved in our nhm and some of the most outstanding of the world fossils."
Emmanuelle Riou, Mehdi Bennourine, Bernard Riou, Co-founders
At the hearth of the Gorges de L'Ardèche, at the door of the Geopark UNESCO des Monts d'Ardèche, the Muséum of Ardèche is located in a a fantastic naturel and historic environment. Appearing to be clinging to a rock above the Ardèche river, this medieval village has the classification of "The most beautiful villages of France".
The Ardèche offers different and beautiful landscapes telling us a 550 million years long story. A mountain tray of ancient granite rock with a substantial thickness layer of volcanic rocks ; Huge deposits of marine sands dug by erosion and forming natural marvels like Le Pont d'Arc.
Many other museums, cultural and leisure sites …
The liberty to discover more than 30 sites !

Organize your program over 3, 6 days or year-round and enjoy an access free of charge to the partner tourist sites of the operation. To withdraw your Pass'Ardèche purchached online, present yourself with your booking confirmation and your identity card at the first visited site. Also for sale in tourist sites or tourist offices participating in the operation